Below are testimonials from our February 24th Study Skills & Exam Motivation Seminar in Swords Grinds Academy. The next seminar will be held on the 6th of October 2018. Booking is now open and places are limited. Seminar is 10am – 3pm and lunch is included. To reserve your place call us on 01 807 9874 or book online here.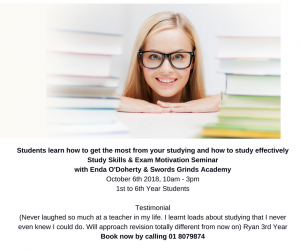 Swords Grinds Academy Testimonials February 2018

'He made us listen by entertaining us. He made us laugh and it wasn't all about studying.'
Daniel
'The seminar was funny, interesting and made me think about the way I was studying and I think it will help me studying in the future.'
Noah
'I stayed engaged in this seminar as it was funny and entertaining as well as learning at the same time. Thank you'
Sophie
'It was easy to keep focused because everything was unexpected.'
Jeff
'I liked how he was energetic and got the point across, he had good stories.'
Tom
'I really enjoyed my experience here as it was my first time ever at a Study Seminar. What made it better was how Enda interacted with us.'
Jack
'Today was really good and helpful for exams in the future.'
Ryan
'I had a brilliant day, the stories were great and it was very engaging.'
Ben
'Amazing day, thanks so much. It has definitely helped and influenced the way I will study from now on. I wish I had done it at the start of 5th Year.'
Eric'
Your man Enda is gas and to be fair he made it really funny and made learning good craic. It was a really enjoyable experience.'
Josh
'It was really interesting and I never got bored and he is really funny.'
Paul
'Wouldn't change anything. The time flew and I had a ball…legend! Good luck in China.'
Alex
'It was nice and exciting. He's really happy all the time. He encourages you to do well and to study and make notes.'
Charlotte
Enda has a very unique way of connecting with students and getting them to understand why they are studying as much as how to study. He excels at motivating students to think about what they want to achieve and how to get the most from their study times. This event is a must attend event not only for exam years but for any student from 1st year to 6th year. We have had students come twice and three times for a 'top up' of Enda's motivation and enthusiasm. It is always a please welcoming him. Over 500 students have now taken his seminars over the last three years with the Grinds Academy locations and he is an important member of our Grinds Education Team.
Swords Grinds Academy Testimonials – Study Skills & Exam Motivation with Enda O'Doherty